Ya boi is back, and if I'm back, it can only mean 1 thing.


BTO season is back.

Prepare your Singpass-es, whip out your $10 and put on your reading glasses for some intensive reading, cause it's BTO time again baby.
If you wanna read up on the guides for the other sites in this launch,
As usual, if you need a reference for the Tengah site map, I got you.

Undecided if the Tengah BTO is for you? 🔽
Tengah May'21
Units Available
Prices
Street
Transport
Amenities
Places of Worship
Education
Investment



You never really forget your first love. The truth is, our first loves are our first learning curves. Not only that, but there are two sides to your first love.

With your first love comes your first heartbreak. It shows you that not all love stays.

That love can end.
Wait ..
… is this a BTO guide or a thought catalog article ..
For new readers, when I first started on BTO-related stuff last November, I fell in love with Tengah and it's tremendous potential, and has been my darling ever since … until the Bukit Merah BTO came about, where you can click HERE to find out why.

But why did I fall in love with Tengah in the first place?

Tengah is the latest town that's been taken into development plans, and is set up to be the nature version of Punggol, transforming a desolate plot into a blooming town while heavily emphasising on being green and sustainability.
This availability and accessibility to green spaces is what attracts me the most, and other Singaporeans too apparently.
(I mean, just look what happened when they announced they were going to cut down Dover forest.)

Not to mention, Tengah does sound like Utopia with the town having cars underground, next-generation waste management systems .. and a centralised cooling system?! Like how will that even work?
I'm also doing this new thing where I try to predict what this BTO will be called, and we'll see if I'm anywhere remotely close
(waiting for HDB's reply on royalty fees if I'm right).
What I think it'll be called: Garden Bloom/Garden Villa or sth lame like that
What I want it to be called: Gardens by the PIE
What it's actually called: (!!!)

That being said, let's get into the nitty gritty


Back to top
There are 780 units available for this sale, the most of any in this launch.
The types of units up for this sale are 2-room, 4-room and 5-room.

As of this moment, we don't know how these 780 units are allocated (we'll update it here when HDB releases the info)


There are 70 2-rm Type 1 units, 196 2-rm Type 2 units, 265 4-rm units and 251 5-rm units.
*Psstt .. don't know what's the difference between the Type I and Type II 2-rm units? I explain it here

I'm using Garden Court/Terrace from the Nov'20 launch as a comparison because it's going to be right beside this upcoming site.
I think prices for this sale will just be a tad higher because it's proximally closer to a MRT Station.


Back to top
This block of units is situated to be in between Tengah Central and Tengah Garden Walk.

Unlike the other guides, I can't tell you how the traffic is going to be because the only vehicles moving there right now are probably big cement trucks and cranes.
But, it does look like Tengah Central is going to be a main road, which may mean heavier traffic/congestion during peak hours.


Back to top
The train situation is mostly similar to past Tengah BTOs, in that you're in the middle of 3 JRL stations.
For this upcoming sale, you'll be very close to Hong Kah MRT, where it's only across a junction. Tengah and Tengah Plantation MRT stations are further away, like a 10 mins walk.
Bus wise, there are currently no services. But don't worry, it's guaranteed there will be buses, they don't expect you to go green with everything.
For those with vehicles, you'll be happy to hear that you have very convenient access to the PIE and KJE. So even though you're staying at the west-end of Singapore, you're still connected.


Back to top

Apart from the amenities that are near Tengah, let's go through some of the amenities that's going to be in Tengah.

I know the Tengah pdf stated that there were some community clubs and neighbourhood centres, but I'm not going to cover that in this article because it's further away from this sale. If you wish to find out a little bit more, I covered it in the Tengah Feb'21 guide.
For May's launch, there will be a residential/commercial plot near your block (the one in blue).

Right now, it seems like it'll be those 4-storey flats with the coffee shop/stretch of household shops on the 1st floor (you know what I mean), and I say this because there's no indication on the pdf file that this will be a neighbourhood centre or anything else.
There is a second, more sizable amenity closer to Tengah MRT Station (also the blue plots).
I highly suspect it's a shopping mall, if not Tengah rly sad lyfe with no malls in the town.
The main question is whether those 2 blue spaces are actually just one mega mall, with an underpass, or whether it's 2 smaller malls (I have $5 on it being the former).
The last amenity will be the healthcare building right across your block.
Given that there's already an upcoming polyclinic in the neighbourhood centre, it's highly suspected that this is going to be a hospital, based on the sheer size of the plot.
Even though there's already Ng Teng Fong hospital nearby at Jurong, this one might be catered for the Tengah and Choa Chu Kang residents.
If you're one to pray really hard that you're not one of the 25% that has to return to working in the office, you'll be glad to know that this BTO has plentiful places of worship in its vicinity.

There are about 3 - 4 churches, 1 Chinese temple, 1 Sikh Temple in the area.
Unfortunately, there is no proposed plan to have a mosque in its vicinity, with the closest mosque about 3 JRL stops away @ Jurong West MRT Station

On top of all of these, there are 8 additional places of worship planned that surround your block.
Aside from all the existing schools that I've listed in the infographic above, there are 12 planned schools in Tengah. I'll just address the few that will be closest to you.

The first one will be right beside you.
There are pros and cons of this.
The pro is that your child will be eternally grateful to you that they can leave home at 7.20am and reach the parade square by 7.25am.
The con is that blocks facing the school will probably get really irritated by the school bell ringing. Also, get used to the national anthem being your morning alarm.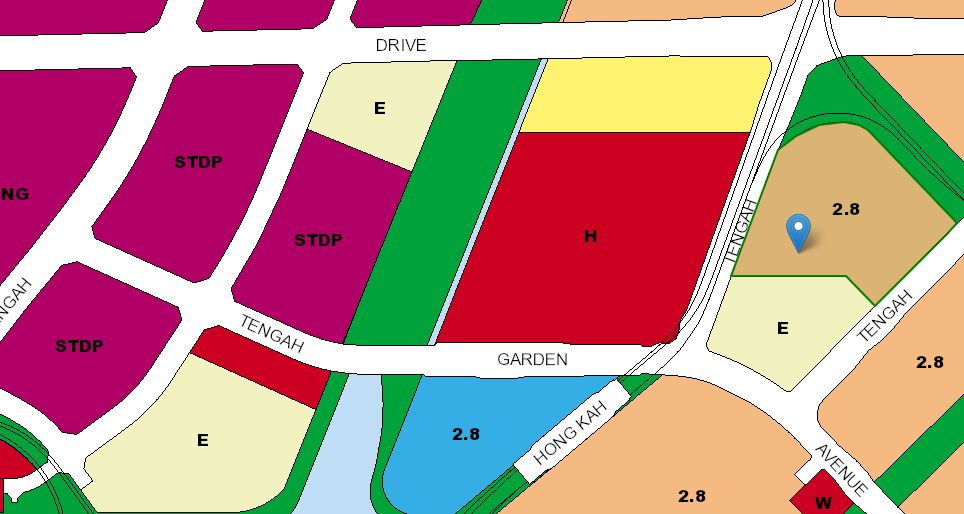 The other 2 schools are closer to the Jurong Innovation District (JID) (the purple 'STDP').

However, I personally don't think it'll be a typical primary/secondary school because, it'll be a bit weird to have a school right outside a business park, but that's just my opinion.
My initial thought was a potential new branch of ITE, but I realised there's already one 10 mins away at CCK, so probably not.
It might be a specialized uni, in a sense where it offers subject-centric modules, like how SUTD has with design, retaining the same theme of the business park that's in the backdrop of these schools.
Firstly, I know there are some people who just scrolled down to this portion so, Hey! Welcome.
Secondly, obligatory disclaimer, everything written below is completely my own opinion. I have no real estate/investment qualifications, but I'll be using the most big brain tool of all - Logic.

Again, I'm not telling you to sell your house.
I'm just sharing some info with you because I think it's your right to know about this before really bidding for a location
(just in case a Karen wants to find me in 5 years time.)
The core concept at play here is the Minimum Occupation Period (MOP).

Simply put, when you buy and move into a house, you need to stay for at least 5 years before you can sell it. This one Gahmen say one, not me.
Even though I believe that Bukit Merah has a steeper trajectory, that doesn't discount anything about Tengah. How I felt about Tengah 5 months ago, is still the same as how I'm feeling now.
Here's what I think the general price lifespan will look like for this BTO.
(Using the predicted value from the price section of a 4-rm bottom unit. Top-floor units can expect higher growth)

Let's explain the world's shortest roller coaster.

#1: The first rise is pretty simple. All HDB units will naturally appreciate in value because it starts below market prices. What's different for every BTO though, is how high they will appreciate.

For this BTO, initial prices will rise to a decent level. I don't think it'll reach Bukit Merah/Geylang levels, but you'll probably get a bigger profit as compared to the Woodlands unit.

Straight up, solely based on the fact that Tengah will be the newest town, and the first Smart-town, will allow the value of your property to climb a bit. Furthermore, by 2030, all of it's amenities should already be in operation.

Despite these, Tengah is still ultimately an unproven place, and Singaporeans being of a more conservative nature, would probably want to give more time to test water.
"However, a slow start doesn't mean a low chart."
- Kyler, 2021
I think this stage of seeing how Tengah slowly matures into a town will reap in a slow, but constant climb in property value as people start being less uncertain and hesitant, and this creates demand.
#2: I think the peak of Tengah units will come as the town fully matures and becomes a developed town, just like what happened to Punggol.

This is because there are a lot of comparisons with Punggol, which was the last town built before Tengah. And if Punggol's property prices are to be followed, the peak value will only be attained after some time.

The highest-record sale for a Punggol HDB unit happened in 2019, 17 years after it's first BTO launch. From an objective point, Tengah would probably follow the same timeline, meaning it'll be around 2035 that it might reach its peak.

And as far apart as Punggol and Tengah are, they are actually way more common than we think.
1) They're both the last 2 towns to be built from scratch
2) They both have a work district in the area (JID for Tengah, PDD for Punggol)
3) They're both towns with a theme (Tengah for Nature, Punggol for Water, Yishun for cat-killing.)
and with yishun being a prime example, "themes" play a part in resale prices

Again, I'm not saying it's a guarantee you'll get profits for however much and during these specific years, but history does tend to repeat itself. All you need to do is take note during a certain time to see if it repeats for you.
Tl;dr: Dudes/Dudettes, Tengah still has the same upside as previous launches. Yes I know it's not in the middle of Singapore, but Tengah means center in Malay. And there are plans set in place that can make Tengah the new tengah. Centrality is relative y'all.