Ya boi is back, and if I'm back, it can only mean 1 thing.


BTO season is back.

Prepare your Singpass-es, whip out your $10 and put on your reading glasses for some intensive reading, cause it's BTO time again baby.
If you wanna read up on the guides for the other sites in this launch,
As usual, if you need a reference for the Geylang site map, I got you.

Undecided if the Geylang BTO is for you? 🔽
Geylang May'21
Units Available
Prices
Street
Transport
Amenities
Places of Worship
Education
Investment



To be honest with you lads & lasses, I was really, really tempted to have just titled this article "Geylang Guide", and post it on hardwarezone/laksaboy to get more clicks.
But alas, here we are with the Geylang BTO guide for May 2021.

Despite what the area is typically known for, a lot of people are expected to still bid for this BTO site because of what it offers. And honestly, I don't blame them.

This BTO is set up to be an all-rounder, one you should definitely keep your eye on if you can afford it, and will be highly contested.
I'm also doing this new thing where I try to predict what this BTO will be called, and we'll see if I'm anywhere remotely close
(waiting for HDB's reply on royalty fees if I'm right).
What I think it'll be called: MacPherson Court/Vale or sth lame like that
What I want it to be called: Bac @ The Mac
What it's actually called:
That being said, let's get into the nitty gritty


Back to top
There are 1380 units available for this sale, the most of any in this launch.
The types of units up for this sale are 3-room and 4-room.

As of this moment, we don't know how these 1380 units are allocated (we'll update it here when HDB releases the info)


There are 54 2-rm Type I units, 162 2-rm Type II units, 156 3-rm units and 1010 4-rm units.
*Psstt .. don't know what's the difference between the Type I and Type II 2-rm units? I explain it here
I expect the prices for this sale to be higher than its closest comparison, Dakota One. Negating that both Dakota MRT Station and MacPherson MRT Station are both just 1 stop away from Paya Lebar MRT Station, your accessibility to MacPherson opens up the Downtown line for you, unlike Dakota.

It also looks like you'll have convenience to the PIE, so you're essentially paying more for getting more.


Back to top
This block of units is situated to be along Paya Lebar road.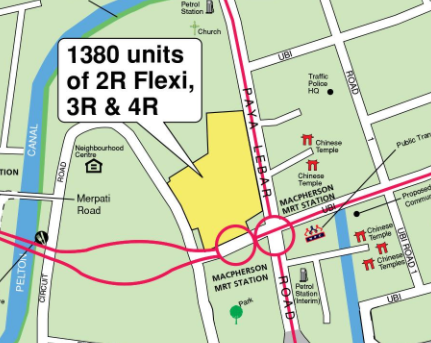 Do take note that you might have to be wary about traffic during peak hours. According to Google traffic, these are how the roads look like on a Monday 6pm.

Understandably, most of the traffic is probably coming from the PIE exit, just be prepared to get a lil' stuck while you're otw home.
This last point is also a pretty unique feature to future residents of this area, but you'll be in the vicinity of Paya Lebar Air Base. So unless you like rocking your chair and imagining yourself to be a passenger with the plane noises, you might have to put up with it.


Back to top
In my opinion, this BTO's train location is the best there ever has been, in 20 years of BTO history.
Sure, it's subjective. If you work in Jurong then … press F for respects.

But the fact is, you're gonna be right beside MacPherson MRT Station, you're gonna have access to 2 of the most commuted lines, a 3rd line just 1 station away, and the location of your train station is relatively central.
As a train otaku, I'm honestly screaming without the s at the thought of how fortunate successful bidders would be.

Unless they decide to somehow build BTOs beside Outram Park/Dhoby/Newton/Orchard MRT Station, congrats on having the #1 BTO in terms of train station convenience in my books.
The bus situation isn't too bad either! There are currently 3 existing bus stops that surrounds the BTO site, meaning that even if your queue # is pretty crap and you get a unit that's the furthest from the MRT station, you have a bus stop at your doorstep.
I've also already mentioned that you'll have access to the PIE, which allows drivers with vehicles a more convenient route.


Back to top

Chances are, if you're going to be staying at this MacPherson BTO, you're gonna be a MallPerson cause there are tons. of. malls. in the area.

I'll briefly start with the most obvious, the trio of PL Square, PL Quarter and Singpost Centre would probably be patronized the most. It has the standard schtick - various food options, hypermarkets, different variants of gyms, a Daiso, and has 2 different cinemas, just in case you can only watch the film at 7.20pm and not 7pm.
(Eh, don't look at me, you're the one who thought of the phallic image)

Now to the lesser known, there are older and more niche malls around the area as well, such as Tanjong Katong Complex, KINEX, Grandlink Square, Joo Chiat Complex, City Plaza and MacPherson mall.
These are options if you were looking to avoid the crowd, or looking for something more specific like textiles and boutique.

Look, I know a lot of people will say that some of these malls aren't malls because 40% of their shops are closed and it's so ulu, but hey, I'm empty on the inside too, doesn't mean I'm dead right?
Of course, that doesn't mean you'll have to travel to Paya Lebar if you need food options. You'll have the Circuit Road and MacPherson Market & Food Centre (that's 2 diff places btw) in walking distance, which can be your go-to for your everyday meals.
Lastly, a unique feature that may get overlooked by most is that you'll be close to the Geylang Bazaar!
Yes it's not a "constant" amenity and is just held annually, but an event that goes to lateeeee in the night, where you have beautiful, colourful fabric around that also encapsulates the diverse range of food available, you'll be super thankful that your home is nearby after completing your bustle because you'll be tired, but the good kind of tired.
If you're one to pray really hard that you're not one of the 25% that has to return to working in the office, you'll be glad to know that this BTO has more than a few places of worship in its vicinity.

There are 4 Chinese temples across the road, and an Indian temple, church and mosque each around the vicinity (about 6-10mins away from the BTO).
There are many more options if you don't mind travelling a lil' bit more, towards Mattar and Kembangan.
Aside from all the schools I've listed above, there are currently plans to build 2 more schools.
The first one is going to be in your neighbourhood, just right above your BTO.

There have been no indications of what kind of school this will be, or when it will be done.
Hopefully, the construction of this will be completed the same time you can move in, so that you won't be bothered by any construction noises.
The second one is going to be near Singpost Centre.
Likewise, there are no signs of what school and when it's going to be operational, but at least there are more options for you to consider should you require it.
Firstly, I know there are some people who just scrolled down to this portion so, Hey! Welcome.
Secondly, obligatory disclaimer, everything written below is completely my own opinion. I have no real estate/investment qualifications, but I'll be using the most big brain tool of all - Logic.

Again, I'm not telling you to sell your house.
I'm just sharing some info with you because I think it's your right to know about this before really bidding for a location
(just in case a Karen wants to find me in 5 years time.)
The core concept at play here is the Minimum Occupation Period (MOP).

Simply put, when you buy and move into a house, you need to stay for at least 5 years before you can sell it. This one Gahmen say one, not me.


Geylang may be known for having stretches of durian stalls that waft through the area, but there seems to be a new fragrance in the air.


Here's what I think the general price lifespan will look like for this BTO.
(Using the predicted value from the price section of a 4-rm bottom unit. Top-floor units can expect higher growth)


Brothers and Sisters, ignore everyone else who comments "Huhhhh yOu sTAy aT gEYlanG?".

Just use your profits as earmuffs.

Having said that, let's understand this graph.

#1: The first rise is pretty simple. All HDB units will naturally appreciate in value because it starts below market prices. What's different for every BTO though, is how high they will appreciate.

For this BTO, I think it'll reach quite high.

You've basically checked all the factors to increasing a property value.
✅ Within 500m of an MRT Station
✅ MRT Station is an interchange
✅ Nearby amenities
✅ Nearby schools

Honestly, it might seem trivial, but there are only a few other BTOs in the past 20 years that fulfill all of those criteria.
As I've mentioned, this BTO holds the #1 train situation in my books, and will probably be the biggest selling point if you decide to market your unit after MOP ends.
Like I can promise you, your property agent will always mention "3 mins walk to MacPherson MRT, got 2 lines some more" to potential buyers.
#2: I predict there's going to be a second rise actually, BUT, depending on whether it'll happen during MOP or not.
Basically, you're probably going to move in around 2025-2026. That means MOP ends in 2030-2031, which is the right border of #1.
IF, and only if, new amenities are built after 2030-2031, then only will there be a second rise.

Makes sense so far right?
Now, let's take a look at what's in store.
If you remember all the clustered malls above that didn't practice social distancing, the URA has planned to build even more malls/commercial spaces/amenities at Paya Lebar (pls show some love to Khatib, URA).
(Right image is the URA Master Plan to show that it's planned to be commercial areas)
The current plan is to have 3 new commercial spaces, in the red, yellow and orange circles.
Usually, I would just say it's gonna be a mall. But given that there are ALREADY 8 complexes in the area, there might be some doubt as to immediately assuming it to be new malls.
FYI; the dark blue spaces in the URA plan is used to indicate offices, exhibition centres, banks, entertainment places etc.
So, we shall see what it turns out to be, and more importantly, when it'll be out.


There's also plans to build a new hotel (in the gray oval). Typically, staying near a hotel won't really affect the price of your property, but if for any reason you wanna take a staycay, but be in 15 mins within your house, you have that option now.
Again, I'd like to reiterate that if these commercial properties are built by 2030, where there's still 9 years left, it's unlikely that you'll get that second rise. Instead, that rise will be added to #1, meaning you can sell it for slightly higher when MOP ends.
Tl;dr. Dude/Dudettes, Geylang is known for services, and it's gonna serve you too. Looking for a house that brings you potentially huge returns? Geylang's got you. Looking for a house that you can settle down in? Geylang's got you. Looking for a safe bid in you really want to secure a house? Geylang's got you.