The West has a reputation for being pretty remote by Singapore standards. Being the manufacturing hub of the country, it was a low priority for residential development (or any other kind of development, really). However, that's all going to change with the advancement of technology across the country.
In the coming years, the West will evolve beyond a manufacturing hub into a mixed-used business and industrial powerhouse, spearheaded by a synergy of technology, research and advanced manufacturing.
Source: URA
Jurong Lake District
1. New Economic Hub In The West
Economic developments always get the most amount of attention in terms of development, as they will drive demand and supply downstream to other factors like amenities and transportation.
Source: Singapore Tourism Board
Jurong Lake District (JLD) will be an amalgamation of business, living and leisure environments within a unique lake setting, making it one of the largest business districts outside of the central area as the government focuses on developing it for the next 15 years. By 2040 to 2050, JLD is expected to create 100,000 new jobs while adding 20,000 new homes to the region. This will add another one million residents to the West.
And if you think that JLD is going to be all work and no play, you would be mistaken. JLD is going to offer flexibility for the next generation of businesses and talents to redesign the way Singaporeans live, work, play and learn. It will have more than 100 ha of park and greenery, and a 70-ha lake with more than 10 km of active waterfront.
Jurong Innovation District
1. R&D Hub In The West
A good economic hub needs to be supported by strong research and development (R&D). That's why the West isn't just paving the way for a new economic hub, it is also going to house a new district for innovation.
Source: JTC
Jurong Innovation District (JID) will be home to a manufacturing ecosystem of R&D centres, technology partners, training providers and Factories of the Future. It will help to push Singapore to be at the forefront of Industry 4.0 where digitalisation and automation will transform the future of manufacturing.
So far, a number of world renowned firms have already signed up to be part of JID, including Siemens, Flowserve, Bosch Rexroth, ISDN, and A*Star.
Tengah
The recent news that ACS is moving one of its primary schools to Tengah by 2030 led to a lot of buzz. But even before the furore, Tengah has long been a huge source of excitement for property development.
1. Tengah Town – A Brand New Housing Estate In Singapore
Source: HDB
When talking about major developments in the West, Tengah should be the first that pops into our mind. Fans of the new town might just start raving about how Tengah will be the first ever HDB town that is embedded with smart technologies town-wide; driving sustainable living for our next generation.
On top of that, according to HDB, different types of dense vegetation will be planted along roads to serve as noise and visual barriers, providing a cleaner, greener living environment. There will also be eco-friendly features like bioswales and bioretention basins (aka rain gardens) to collect and cleanse rainwater while creating a conducive habitat for insects and animals.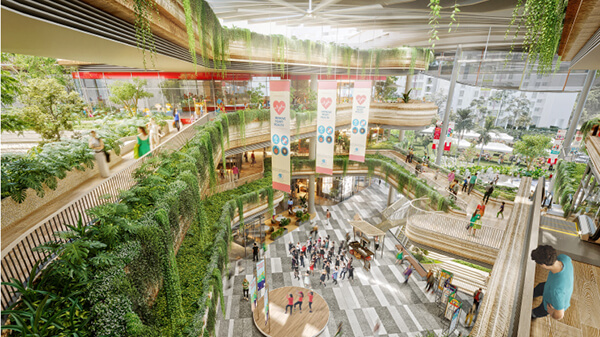 Source: HDB
Aside from the environment, effort has also been placed to take care of social aspects of residents in the town. One such feature will be the neighbourhood centres that also act as a social and wellness hub. Not only can you get your daily necessities from the neighbourhood centres, you can also find community events hosted at the sprawling open plaza or community plaza.
Source: HDB
To free up more ground-level spaces for community activities, multi-storey car parks will be elevated so that the ground floors can be designed as a car-free, sheltered community space for all ages. It will also include amenities such as a childcare centre, fitness stations, and a playground.
Transport Network In The West
1. Jurong East Integrated Transport Hub (ITH)
The Jurong East Integrated Transport Hub (ITH) was first mentioned almost 13 years ago by then Transport Minister Raymond Lim. According to LTA, this 2.6 ha facility is designed to make transfers between the North-South, East-West and the Jurong Region Line more convenient. Apart from making travelling more convenient for residents in the West, the ITH will also facilitate movement of talents to and from JID and JLD. It is becomes almost like a gateway to the West.
We believe that the ITH would also have some connection to the cancelled Kuala Lumpur–Singapore high-speed rail (HSR).
2. 6 MRT Lines For The West By 2035
Having a good network of public transportation is key for any town to thrive. That's why there are plans to connect as many as six MRT lines to the West by 2035. This means that there will be two additional MRT lines added to the existing ones in the West (East-West Line, North-South Line, Downtown Line, and Circle Line).
Jurong Region Line
Source: LTA
One of them is the Jurong Region Line (JRL), which will be "exclusive" to the West. So far, we have not seen such dedicated lines before, save for the LRT lines in Sengkang, Punggol, and Bukit Panjang. What this means is that there are a lot of underlying opportunities for urban development in Jurong West, which has prompted LTA and URA to cater for a dedicated MRT line for the West.
Cross-Island Line
Besides just connecting the West, JRL will help to connect estates like Choa Chu Kang, Boon Lay, and Jurong to the sub-regional hub at Jurong East. There will be an upcoming Jurong East Integrated Transport Hub (ITH).
Based on Singapore's planned development, the Cross-Island Line (CRL) will join to the West via Jurong Pier MRT (JRL) and Clementi MRT (EWL). This will allow commuters to switch between transport modes more conveniently and add vibrancy to the area. While the western stretch of the Cross Island Line is currently under study, we think that it is only a matter of time that we see results, given how forward looking our urban planners are.
Buying A Property In The West Of Singapore
If you look into history of cities around the world, you will notice that valuation of properties are closely tied to the economic activities. The more economic activities in the area, the greater the demand to work and live in the area.
For the Westies, the upcoming economic developments in the region is a sign of what's to come. Not just for the next three years, but perhaps for the next 1-2 decades.
And if you are thinking about getting a property in the West, make sure to also check out some of the latest home loan packages to score yourself a better deal. Engage a mortgage consultant like us!
Because, at Mortgage Master, we know the latest home loan packages in the market and sometimes can even offer exclusive interest rate packages that you cannot get directly from the bank. If you're looking to purchase a new property, or refinance your existing home loan, fill up our enquiry form and our mortgage consultants will follow up with a call.