Those who live in the East have this strong sense of community and belonging within the area. That sense of community is so strong that people have dubbed the East to be the best place to live, going as so far to coin the term: "East Side, Best Side".
Well, when it comes to the developments that will be coming next for the East siders, we might have to hand it to them and agree that East side is, indeed, the best side.
Bedok
1. Upcoming Bayshore Housing Precinct
Source: URA
Whenever a new housing precinct is planned, there's always plenty of buzz around it. The upcoming housing precinct in Bayshore is no exception. In fact, there's even more hype around the Bayshore district compared to other housing districts.
According to URA Masterplan 2019, Bayshore will be designed as a lifestyle waterfront residential estate that is nestled in lush greenery. This gives the homes in Bayshore two highly coveted attributes for housing in Singapore: An unblocked sea view and proximity to the lush greenery at East Coast Park.
Beyond just the East Coast Park and waterfront view, Bayshore will be located in Bedok, which is an established mature estate. Those who manage to get your hands on a property here will be able to enjoy the amenities at Bedok while living in homes with relatively fresher lease.
Source: URA
Connectivity is always an issue for new housing estates or precincts. However, Bayshore is going to be different. That's because work on infrastructure development that ties with Bayshore housing precinct has already begun. Yes, we are referring to the Thomson-East Coast Line (TEL) Phase 4 and Phase 5. As part of TEL, there will be two MRT stations within Bayshore, i.e. Bayshore MRT (Phase 4) and Bedok South MRT (Phase 5). These will be ready by 2024 and 2025 respectively. Having two MRT stations within a relatively small plot of land at Bayshore helps to enhance the transport connectivity for residents.
On top of that, Bedok South MRT will also be part of the future Integrated Transport Hub at Bedok South. This will be similar to the ITH at Bedok, which has the bus interchange, MRT station, shopping mall, and a condo residence all in one building. As such, we foresee the possibility of an integrated development condo like Bedok Residences popping up at Bedok South.
Beyond just benefitting those who are new to the Bayshore housing precinct, the development will also benefit the residents currently living along Upper East Coast Road in an ecletic mix of HDBs, condos and landed property.
Pasir Ris
1. Housing By The Park
If you can't get enough of the waterfront and greenery living, then you should also watch for the developments in Pasir Ris. It is easy to forget that Pasir Ris is, like the more popular East Coast, an estate right next to the sea. This means that waterfront living is a possibility. In fact, some of the existing landed and condos like Vue 8 and Ocean Front already offer waterfront living. However, there's going to be more chance for those living in HDBs to catch a glimpse of that too.
Source: HDB
For instance, Costa Grove BTO, which was launched in August 2020, is right next to Pasir Ris Park, along Sungei Api Api. And if you live in a high enough floor, having that unique sea view from across the Park is a dream come true.
2. Redevelopment Of Pasir Ris Park
Pasir Ris Park has been around for the longest time, but it has only gained appreciation after covid taught us the importance of green spaces in our lives. The same can't be said for the urban planners at URA, as it was already in their roadmap to revamp Pasir Ris Park; turning it into a recreational space and play space for those living in the area. Upgrades of existing park facilities and enhanced coastal park experiences are to be expected.
3. New Town Centre Integrated With Pasir Ris 8
Source: Pasir Ris 8
Pasir Ris 8 launched last year in July with 85% of the units sold out on the launch weekend. The units were priced between $1,400 psf to $2,000 psf with an average price of $1,600 psf.
One of the reasons why Pasir Ris 8 sold so well was because it is an integrated development that links to the new mall and Pasir Ris MRT.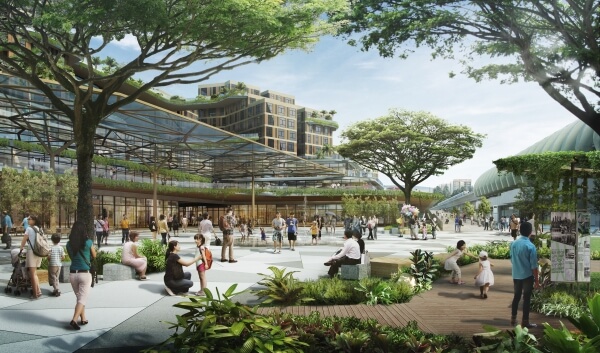 Source: URA
The new Pasir Ris Town Centre will have a polyclinic, childcare facilities, a town plaza, and the Integrated Transport Hub all under one roof. While those who have managed to snap up a unit at Pasir Ris 8 will be the biggest winners, residents living in Pasir Ris will also join those ranks because of the renewed development interest in Pasir Ris.
Tampines
1. New Housing Estates In Tampines
Tampines is one of the mature estates in the East that is so sought after by new homeowners. Which is why you will be glad to know that Tampines is going to undergo further development in two new areas: Tampines North and Tampines South.
Now if you're thinking the same thing: Tampines has reached its maximum capacity, but time and time again, we are surprised by the long term planning and vision of the URA. Despite being a well-established estate, Tampines still has room for growth! In fact, development for the housing estate in Tampines North has already begun.
Tampines North
For Tampines North, there is also a planned MRT station at (Tampines North MRT) on the Cross-Island Line (CRL). The station is expected to be operational in 2030. While that is still some way to go from now, it should be about the same time that housing estates in Tampines North will be ready.
Tampines South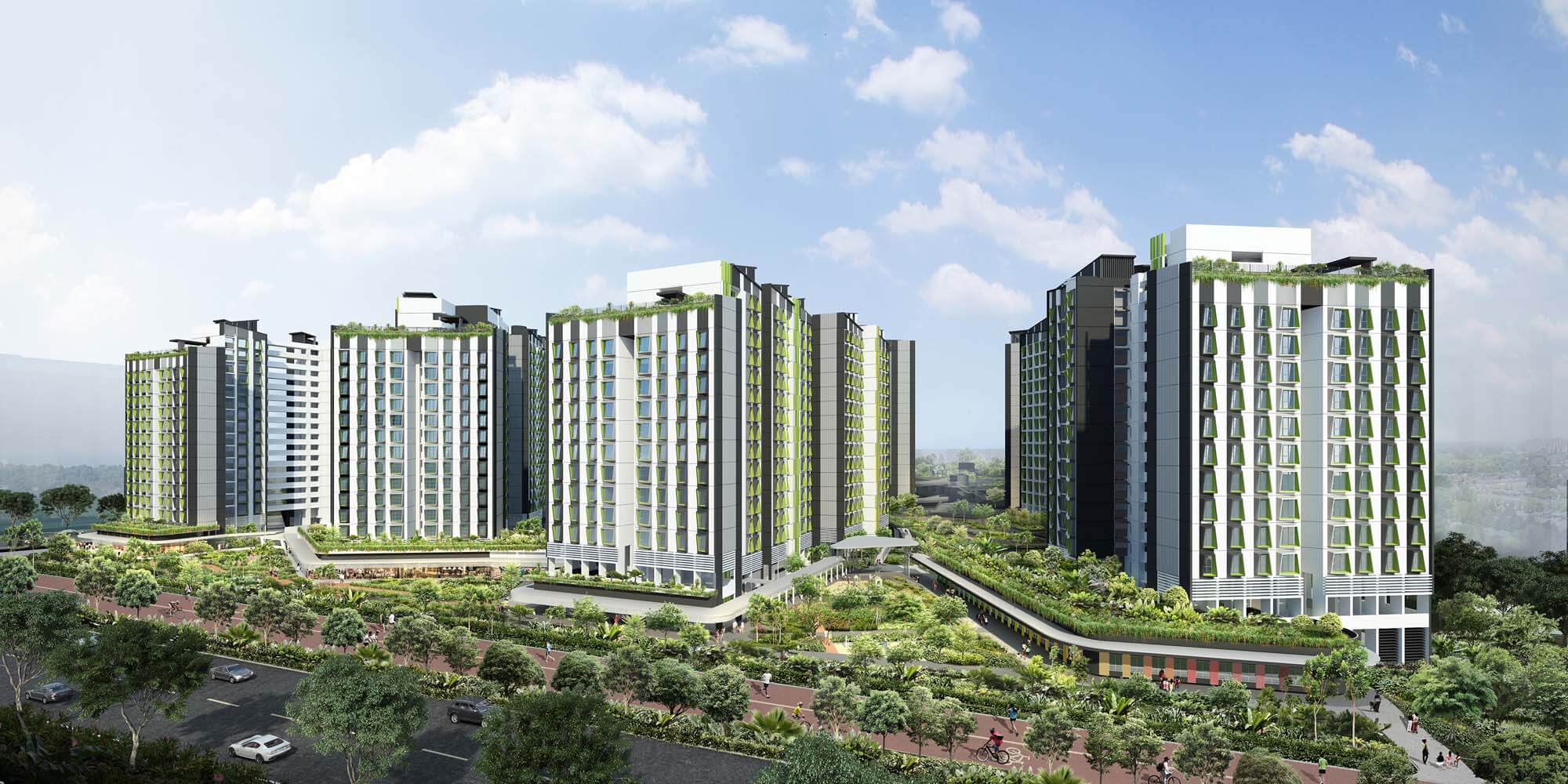 Source: URA
Tampines South is a slightly longer term development of Tampines estate compared to Tampines North. It is expected to be fully developed in the next 10 to 15 years to create 8,000 new homes for Singaporeans. Already BTO launches in the area, including Tampines GreenGem (pictured above), Tampines GreenJade and Tampines GreenQuartz have seen significant attention, with over 9,000 applicants for the latter two when they were launched in August 2021.
Changi
1. Changi East
It is an open secret that Changi is the aviation hub of Singapore. There's no doubt that everything aviation related is going to be built in Changi. Thus, when you see Changi on this list, it has to be about new transport developments.
Source: Changi Airport Group
First and foremost, we are going to have a new, fifth terminal in Changi. Creatively named Terminal 5, the airport will add a "new" runway to the existing two at Changi. The runway was already there for military use, but in future, it will be extended to accommodate both commercial and military planes. What does this mean for us? More flights to and from Changi, which should in turn drive the economic demand around Changi.
Source: Changi Airport Group
There will also be an extension of the cargo facilities at Changi Airfreight Centre to Changi East Industrial Zone. The zone will cater for not just air freight and air express activities, it will also cater for Maintenance, Repair and Operations activities. The expansion will almost double Changi's handling capabilities, from 3 million tonnes per annum to 5.4 million tonnes per annum.
More Rail Networks In The East
Along with the development of the East, those living in the East will see an extension of the existing rail network.
Source: LTA
The fifth stage of the Thomson East Coast Line is expected to be completed in 2025. By the 2040s, the future TEL is expected to integrate with the existing MRT line to Changi Airport and the Downtown Line (DTL). On the CRL, there will be five new MRT stations, including an interchange at Pasir Ris to add further mobility to central and North East of Singapore.
Buying A Property In The East Of Singapore
The East has always been less hyped up compared to other regions when it comes to urban development. However, we think that this time round the East is in fact more exciting, especially for new homeowners given the number of new homes that will be completed within the next decade.
If you are thinking about getting a property in the East, make sure to also check out some of the latest home loan packages to score yourself a better deal. Engage a mortgage consultant like us!
Because, at Mortgage Master, we know the latest home loan packages in the market and sometimes can even offer exclusive interest rate packages that you cannot get directly from the bank. If you're looking to purchase a new property, or refinance your existing home loan, fill up our enquiry form and our mortgage consultants will follow up with a call.