Anyone who has ever applied for an HDB flat will know just how bureaucratic the process can be. So, when HDB announced earlir this year that it will be replacing its legacy Home Loan Eligibility (HLE) letter with a new service, it got everyone's attention — and that includes us.
We were eager to dive into what comes in the newly revamped HDB Flat Eligibility (HFE) letter from HDB to replace the existing HLE letter. And here's what we found.
Why Did HDB Introduce The HFE Letter?
According to HDB website, the goal of the HFE letter is to "provide you with a holistic understanding of your housing and financing options and help you plan your flat budget before you embark on your home buying journey".
Those who have been through the old HLE letter era would already know how confusing it can get.
Therefore, to make home planning much simpler for everyone, HDB decided to revamp the eligibility check.
What Is Included In The HFE Letter?
When you receive your HFE letter, it will include the following:
Types of HDB flat you are eligible to buy or apply for
Total amount of housing grant you will receive + breakdown of amount from Enhanced CPF Housing Grant and Proximity Housing Grant
If you have indicated that you want to take a HDB housing loan, you will be provided with 3 loan scenarios from HDB:

Prudent (20%)
Moderate (25%)
Maximum (30%)
(The percentage refers to the Mortgage Servicing Ratio (MSR), which ranges from 20% (prudent) to 30% (maximum)).

If you requested for an In-Principle Approval (IPA) from banks, your personal information will be shared with the bank directly from your HFE letter application. This is done through the integrated loan application service on the HDB flat portal.
Here are some screenshots on what the information looks like while you're on the HFE check step (see below section for more details).
Note that the official HFE letter will look different, even though most of the information will be largely similar to the HFE check step.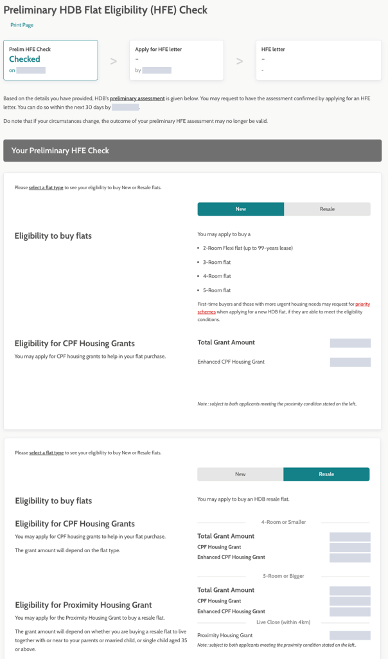 Source: https://www.mynicehome.gov.sg/
When Should You Apply For An HFE Letter?
You will need an HFE letter BEFORE you:
Apply for any Build-to-Order (BTO), Sale of Balance Flat (SBF), or Re-Offer of Balance Flat (ROF) launch; or
Submit an Option to Purchase (OTP) for a resale HDB flat.
For BTO or SBF launch, it's quite straightforward. The launches are released at least two quarters ahead of time. This is in place so that you have enough time to apply for an HFE letter well in advance of your desired BTO launch, ensuring that everything's ready by the time you submit your application.
For resale HDB flat buyers, the timing is way more tricky. As a general rule of thumb, it is a good idea to start applying for one the moment you begin house hunting. It will probably take you a few weeks of viewing before you settle on your dream home. By that time, your HFE letter should be ready.
If your house hunting phase exceeds six months (beyond the validity of your HFE letter), simply reapply for the HFE Letter within 30 days of its expiration.
Will Your HFE Letter Expire? And How Long Is It Valid For?
Just like its predecessor HLE, an HFE letter is also valid for six months. Take note that it is six months from the date of issue of the HFE, not from your application date.
When you are 30 days (or less) away from the expiry date, HDB recommends that you reapply for an HFE.
How Do You Apply For An HFE Letter?
To apply for an HFE letter, there are two steps that you need to take.
Step 1: Submit A Preliminary HDB Flat Eligibility (HFE) Check
This step involves logging into HDB Flat Portal with your SingPass to input your personal particulars and employment details. Your partner will also need to input their details in the same application.
HDB will then ask whether you are taking a housing loan from them for the home purchase. You should indicate yes for this part because it gives you the choice of going for an HDB housing loan if you need one.
Step 2: Apply For An Official HFE Letter Within 30 Days From Step 1
Once step 1 is complete, you can proceed to apply for the official HFE letter. Note that this needs to happen within 30 calendar days (not business days) from your HFE check approval.
This is the part where you will provide your CPF contribution history over the past 15 months and latest Notice of Assessment from IRAS via SingPass MyInfo. This is so that HDB can verify your employment details and CPF contribution from your employer.
After 21 business days (roughly around 30 calendar days), you will get your official HFE letter from HDB.
What If You Want To Take A Housing Loan From Banks?
There are a handful of reasons why you would need a bank loan to buy an HDB unit in 2023.
For example, taking a HDB loan requires you to deplete the bulk of your CPF Ordinary Account savings when buying your HDB unit, and you would prefer not to. Perhaps you're just not eligible for an HDB loan which means a bank loan is your only alternative.
Here's what you need to know about taking a housing loan from banks.
Obtain An In-Principle Approval (IPA) At Your Preferred Bank(s)
An IPA is the bank's version of a home loan eligibility assessment. It tells you the indicative loan quantum that the bank is willing to offer you if you were to take up a bank loan today. While the actual loan quantum may still fluctuate, the loan quantum indicated in the IPA is a good ballpark estimate for you to work out your housing budget.
The HDB flat portal lets you choose which banks you want to consider for a home loan. You just have to tick the checkbox when you apply for your HFE letter under Step 2. That's because every bank will have its own IPA. If you want to know what different banks are able to offer you for your home loan, then you will need to apply to all of them.
Source: https://www.mynicehome.gov.sg/
Engage A Mortgage Broker To Help You
Alternatively, you can also engage a mortgage broker to help you with the nitty gritty details. Simply let the mortgage broker know what banks you are considering and they will do the necessary paperwork for you.
If you applied for an IPA through the integrated loan application service on the HDB flat portal, you still have to apply for a Letter of Offer (LO) on your own. But if you engage a mortgage broker, this will all be taken care of.
Leverage On The Free Service From Mortgage Brokers
With so much numbers and options presented to you on the HDB flat portal during HFE letter application, it can get confusing, especially if you aren't a number savvy person.
One advantage that a mortgage broker can offer is that they can help you compare the interest rate on different bank loan packages.
The other is that applying for an IPA through a mortgage broker means that you won't need to buy or download your own credit report from Credit Bureau Singapore (CBS). And if you are worried there's a catch, there isn't. Mortgage brokers in Singapore should provide their service to homeowners like you and I for free.
Mortgage Brokers Might Be Able To Get You Exclusive Deals
In fact, a good mortgage broker can often get you exclusive deals thanks to their established relationship with the banks.
For instance, at Mortgage Master, we know the latest home loan packages in the market and can sometimes even offer exclusive interest rate packages that you cannot get directly from the bank.
If you're on the journey to purchase your first home, make sure you fill up our enquiry form so that our mortgage consultants can be there to help you save more!
What's Next After Your HFE Letter?
Once you get your official HFE letter from HDB, you are now ready to embark on your home buying journey. With your budget in hand, you can do your house hunting in ease knowing that HDB or the banks will readily extend credit to you to afford your first home.