One of the biggest headaches as a homebuyer is the fact that the property market has an information gap. Without the right information, it's hard to decide whether the property decision you are making is the right one. This makes it difficult for any homebuyer to commit to such a big ticket purchase that will take 25 years of financing to pay off. But what if we told you that you have such a tool (URA Master Plan) at your disposal that you can use to your advantage as a homebuyer? In fact, this tool is publicly accessible to anyone with an internet.
URA Master Plan Guide: What Is URA Master Plan?
For the uninitiated, the Master Plan (or commonly referred to as URA Master Plan) "is the statutory land use plan which guides Singapore's development in the medium term over the next 10 to 15 years".
To put simply, it is the blueprint of Singapore's development over the medium term to allow Singapore to better plan for the needs of current and future generations while holistically balancing the social, economic, and environmental considerations of urban development.
The URA Master Plan is reviewed every five years and adds detailed plans that guide land and property development in Singapore.
URA Master Plan Guide: What Is In It?
The URA Master Plan consists of multiple components: Themes, Regional Highlights, Urban Transformation and Master Plan (URA Space). Each of these components serve its own function and purpose.
1. Theme
Every URA Master Plan is designed with a few broad themes that guide the design considerations of the 5-year plan. The current URA Master Plan 2019 revolves around the following themes: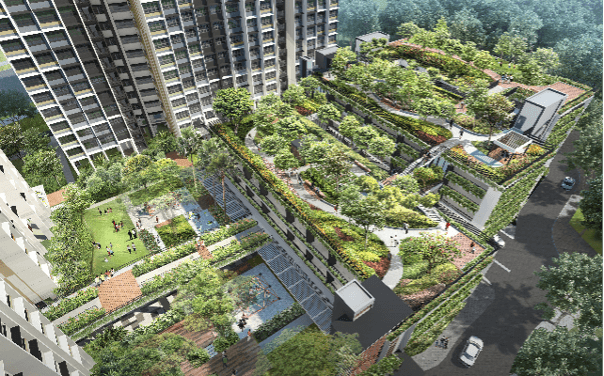 Source: URA
The land use guide for the next 5 years is to create more liveable and inclusive communities so that Singapore's residents can live, relax and play in the same space.
Besides creating more greenery and play spaces, URA Master Plan 2019 will aim towards providing an array of housing options to suit residents' preferred lifestyles.
Source: URA
Decentralisation of the Central Business District (CBD) to create develop business nodes and industrial estates outside the CBD is another key theme for the current URA Master Plan. The idea is to drive economic growth and job creation as well as allowing residents to live closer to their work places.
Source: URA
Another key theme for Singapore's urban development is outlined by Singapore's commitment towards a sustainable future that can adapt to climate change. For instance, how can Singapore meet its food security challenge while still allocate land use efficiently for economic development?
2. Regional Highlights
The Regional Highlights is a breakdown of different estates in Singapore and the planned urban development in the next 5 years. Homebuyers can understand the highlight development trends in the North, North-East, East, West and Central regions in Singapore.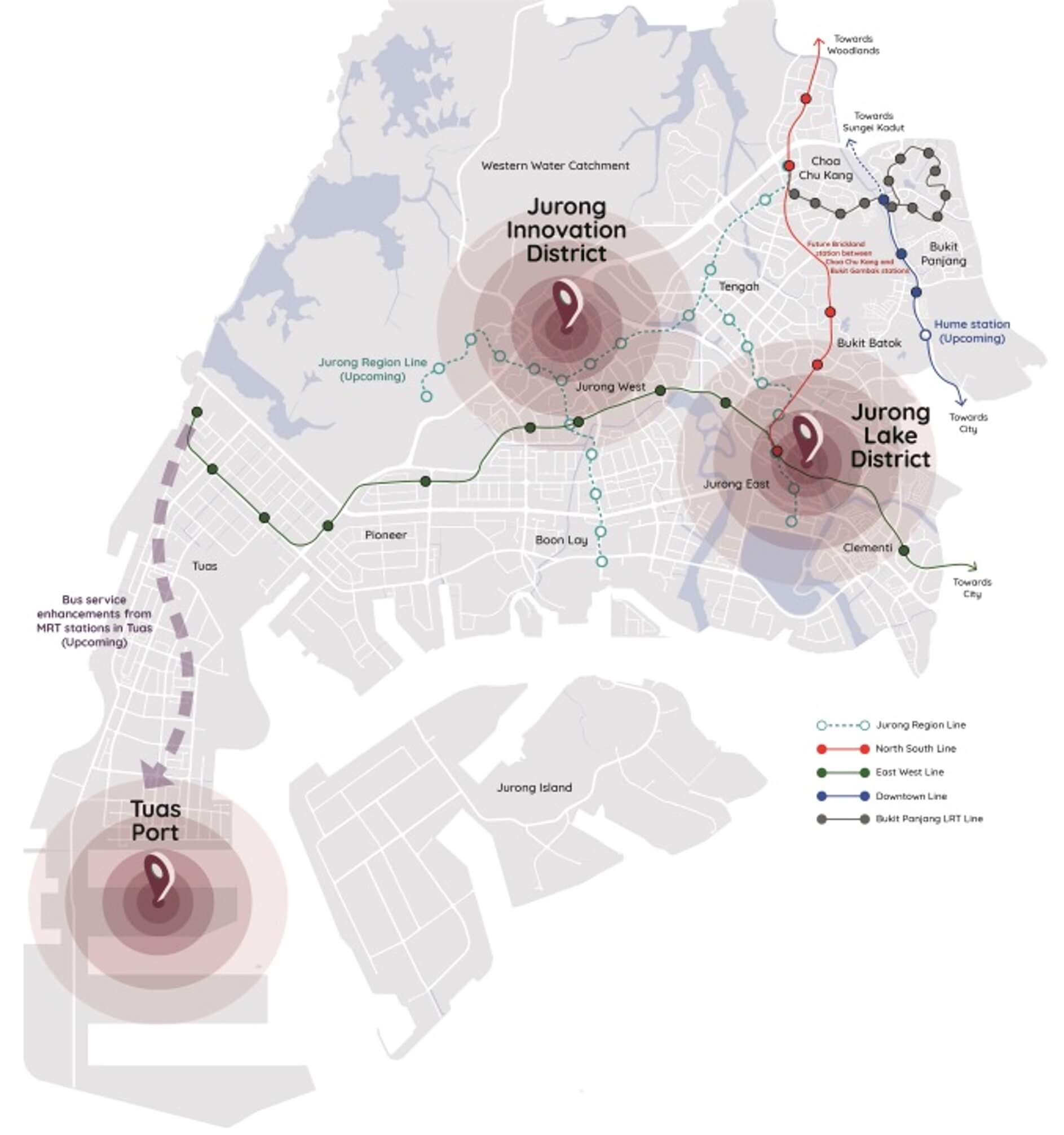 Source: URA
For example, for the West region, the 3 highlighted developments are the Jurong Lake District, Jurong Innovation District and Tuas Port. It focuses on key regional development efforts in the Western region.
After understanding the macro development in the West, you can then zoom in to the various estates in the West.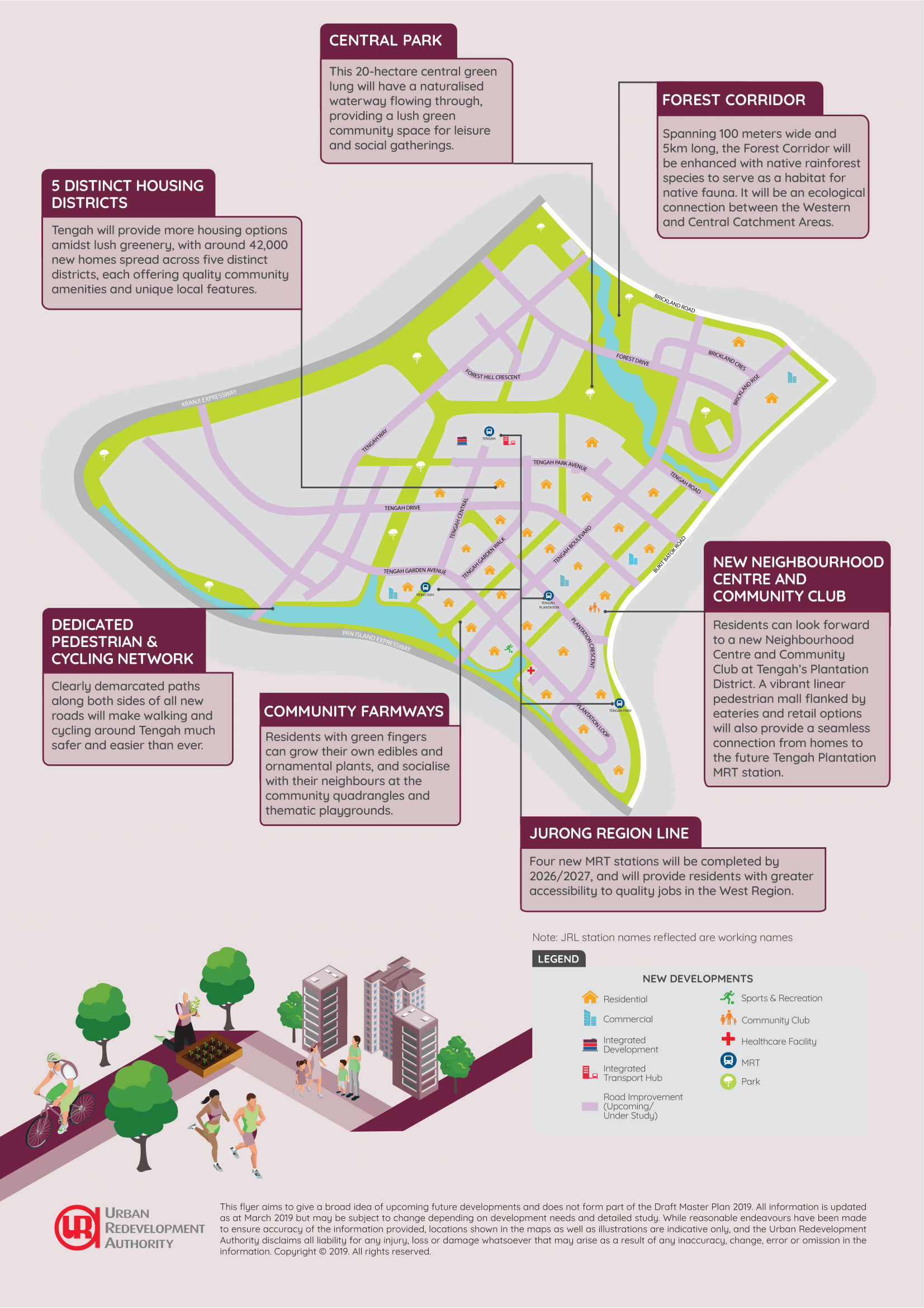 Source: URA
Each estate has its own flyer that highlights the amenities that residents will be able to enjoy in time to come. For instance, under the Tengah flyer, it highlights amenities such as Jurong Region Line, cycling network and the neighbourhood centre/community club. It even goes into details of when it will be ready and where the individual amenities will be located.
Apart from the nitty gritty details about developments within the estates, every URA Master Plan comes with its own highlight Urban Transformation projects as well.
These projects are key growth plans that either:
Develops existing space that haven't been fully utilized (e.g. Punggol Digital District, Kallang River); or
Rethink and redevelop an existing space that will soon be removed (e.g. Paya Lebar Airbase). For instance, the relocation of Port Singapore Authority (PSA) to the Tuas Port will free up land in the Pasir Panjang area.
Source: URA
This allows Singapore to reimagine the space into the Greater Southern Waterfront, a new major gateway and location for urban living along Singapore's southern coast. The development will not only bring more housing, but also create more community spaces and link existing estates to the green spaces around Clementi, Telok Blangah and Harbourfront.
Source: URA
The last thing you can find on the URA Master Plan is the URA Space, a centralised integrated map that combines information from HDB, LTA and URA. You can find various maps that can be overlaid onto each other such as URA Master Plan, demographics of the population in the area, where construction is happening, etc.
URA Master Plan Guide: How Homebuyers Can Use URA Master Plan To Your Advantage
Knowing the components of the URA Master Plan is just step one in the game plan. The ultimate game plan is to use the publicly available information in the URA Master Plan to make smarter property decisions.
Here are some ways on how you can use the URA Master Plan to your advantage.
1. Urban Transformation: Use URA Master Plan To Plan Your Next Property Move
Urban Transformation projects are long term drivers of growth of property prices. And now that you know where all the Urban Transformation in Singapore is happening, it gives you the necessary information to plan your next property move.
For example, you can delay your plans for a new property if you know that you can get a much more valuable property if you wait another year. Also, with Urban Transformation projects, you have much more housing options to choose from since it will be a large scale development.
2. Regional Highlights: Understand The Future Value Of Your Property
Property value is driven by a couple of factors, such as the surrounding amenities. For instance, having a new MRT station built within a 500m distance from your property will add an MRT premium to your property's valuation.
For those who already own an existing property, knowing what kind of amenities will be popping up in your vicinity can help you project the future value of your property.
For those looking for your next property, having this information will help you find undervalued investment properties with planned amenities in the future. You don't just want buy based on what you currently enjoy, but you also want to plan ahead for the amenities that you will get to enjoy in the future.
3. URA Space: Understand The Detailed Land Use Planning Around Your Property
Highlight developments like the Urban Transformation and regional developments are what catches people's attention. For shrewd homebuyers, getting into the details and the nitty gritty will give you an edge.
With the URA Space, you can make calculated guesses about what kind of developments might sprout out in the future.
For example, you can use the coloured legends to understand where future industrial and commercial activities are going to be. If you prefer a serene, quieter environment, then it's best to avoid those areas.
If the property you are eyeing currently enjoys a good view of the surrounding, make sure to check if there will be future developments just right at your doorstep. Otherwise, you run the risk of getting your beautiful view blocked.
For those who are looking for an enbloc play, the URA Space can also help you with that. For instance, existing condos that are under-utilised compared to the plot ratio stated on the URA Master Plan can be a sign that the condo might be enbloc-ed in the future. It can help you identify enbloc plays even before there's talks of enbloc.
What Else Can Get You An Edge On The Property Market?
URA Master Plan is a great tool to help you find your edge on the property market. But it isn't the only way you can gain an edge in the property market. Another trusted and proven method of gaining an edge is to make sure of smarter financing for your property.
For example, in the current low interest rate environment, you can find home loans that are offering sub 1% interest rate. With a lower interest rate, you can save on financing your property. An even smarter way to do that is to take advantage of a mortgage broker like Mortgage Master, which can help you to source for the lowest rate in the market.
At Mortgage Master, we know the latest home loan packages in the market and can even offer exclusive interest rate packages that you cannot get directly from the bank. If you're looking to purchase a new property, or refinance your existing home loan, fill up our enquiry form and our mortgage consultants will follow up with a call.