To be able to own a condo is still a key aspect of the classic Singaporean dream. We've long held a deep appreciation for condo living, thanks to the unique blend of exclusivity, convenience, and a host of desirable amenities that cater to Singaporeans' modern urban lifestyles. So it's no wonder why we always see such anticipation when it comes to new launch condos.
Cover Image: Grand Dunman
In the current quarter, developers are drumming it up with promises of an array of new real estate opportunities for homeowners and investors alike. Here's a quick look at some of the new condo launches for Q3 2023.
1. Lentor Hills Residences
Lentor Hills Residences is a condo development by a trio of developers (Hong Leong Holdings, GuocoLand and TID) in District 26.
Source: Lentor Hills Residences
Located just three minutes from the new Lentor MRT on Thomson-East Coast Line (TEL) and 12 minutes from Yio Chu Kang MRT on North-South Line (NSL), Lentor Hills Residences offers great connectivity for its residents. TEL connects residents from Lentor Hills Road to Orchard Road in just nine stops, taking you just under 40 minutes of travel time.
Location: 7.5/10
Lentor Hills Residences will be located next to Lentor Modern, an integrated development that links the Lentor MRT with commercial and retail spaces of 96,000 square feet. There will be around 50 retail shops with lots of food & beverage options, a supermarket, and a childcare centre making for easy access.
Amenities: 7.5/10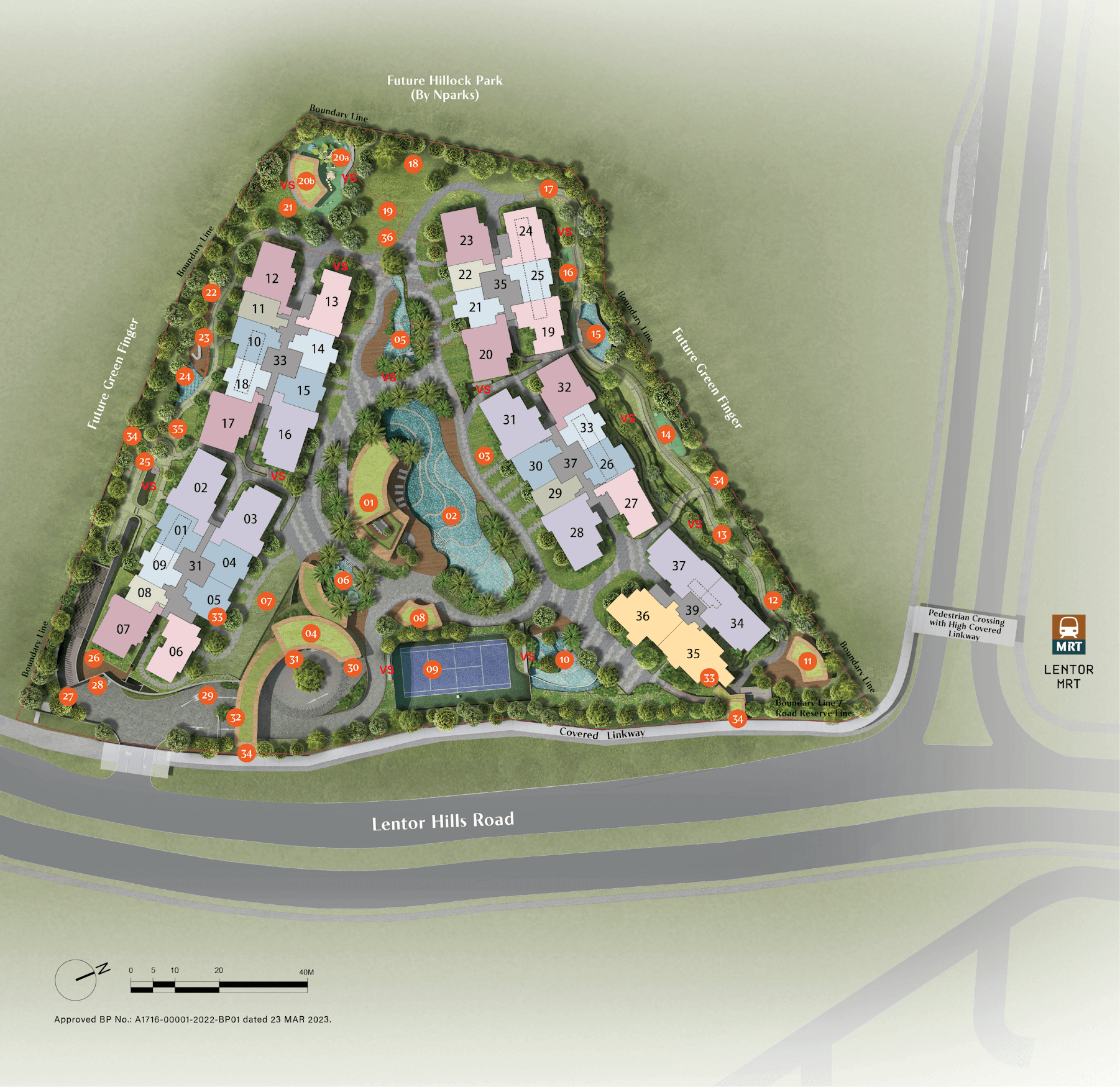 Source: Lentor Hills Residences
The price point for Lentor Hills Residences seems to be on the more affordable range with indicative prices starting from $945,000.
There are a total of 598 residential units available to choose from, ranging from 1-bedroom to 4-bedroom configurations. The units are spread out across five blocks that surround the suite of facilities like swimming pool and the two clubhouses (Play Zone Clubhouse, Work Zone Clubhouse).
Price: 8.5/10
With a number of popular schools in the vicinity of Lentor Hills Residences, it appears to be an interesting option for families looking for nearby schools.
For instance, Anderson Primary School and CHIJ St. Nicholas Girls' School (Primary) are schools that fall within the 1km radius from Lentor Hills Residences. Presbyterian High School, CHIJ St. Nicholas Girls' School (Secondary), and Anderson Secondary School are all within 2km radius from Lentor Hills Residences as well.
Ideal For: Families
At the launch of Lentor Hills Residences in July, half of the units had been snapped up, with the clear preference being for 1-bedroom and 2-bedroom types.
2. The Myst
The Myst is a 99-year leasehold condo development that is located in District 23. The site was formerly occupied by Tan Chong International as an auto service facility, which was later acquired by City Developments Limited (CDL) through its subsidiary CDL Aries.
Source: The Myst
The Myst's location in the Bukit Timah area makes it one of the highly watched new launches this quarter. Demand in the Bukit Timah area has been historically strong due to its proximity to popular schools in the area. Its location near the Good-Class Bungalow enclave and Bukit Timah Nature Reserve also makes it desirable among homebuyers.
Location: 8/10
The Myst is just a five minute walk distance from the nearby Bukit Panjang Interchange. At the interchange, there is a trio of shopping malls (Junction 10, Hillion Mall, and Bukit Panjang Plaza) for you to shop for your daily needs.
Amenities: 7/10
Source: The Myst
Indicative prices for The Myst shows that the smallest unit (1-bedroom + study) will start from $998,000. There are a total of 12 different types of floor plans, from the 1-bedroom + study (517 sq ft) to the 5-bedroom sky unit (2,034 sq ft).
Price: 7/10
The proximity to schools is a big plus point for families who are looking for a home to settle in. The Myst is within a 1km radius from a few schools, including CHIJ Our Lady Queen of Peace, Bukit Panjang Primary, and Zhenghua Primary.
The green space at Bukit Timah Nature Reserve is just a short six minute drive away from The Myst. It is the perfect place for families to bring kids to explore the nature and appreciate the biodiversity on the weekend.
Ideal for: Young parents
At the launch of The Myst in July, over a quarter of the units were sold, making it one of the least popular launches in this quarter though still a respectable takeup rate.
3. Pinetree Hill
A jointly developed condo by UOL Group and Singapore Land Group, Pinetree Hill will be bringing 520 units to the market for potential homebuyers who are keen on staying in District 21.
Source: Pinetree Hill
Pinetree Hill is located on the ex-site of the now-defunct Nexus International School. Within the vicinity of Pinetree Hill , you can find a plethora of other condo developments like Pine Grove, Astor Green, Cavendish Park, Montview, Ridgewood, and Pandan Valley Condo. Interestingly, Pinetree Hill is set to become the first new launch in the area in 14 years.
Location: 7.5/10
Pinetree Hill is within walking distance from Springleaf and the nearby Sheng Siong Supermarket at 352 Clementi Ave 2. If you are planning to head to Clementi interchange, you're only four bus stops away. The journey to Clementi interchange will take you just under 20 minutes. Clementi Mall, 321 Clementi, and Grantral Mall are right next to the Clementi MRT at Clementi interchange.
Amenities: 6/10
Source: Pinetree Hill
Units at Pinetree Hill start at more than $1,200,000 for a 1 bedroom + study. There are 10 different unit types available, ranging from 538 sq ft to 1,733 sq ft. There is also a single 2,874 sq ft penthouse unit.
Price: 6/10
The only primary school in the vicinity of Pinetree Hill Residences is Pei Tong Primary School. Given that Pei Tong Primary School is going to be a popular choice for many parents, Pinetree Hill Residences might not the most suitable for families who are looking for places within the school's vicinity.
However, if your child is already in secondary or tertiary education, there's much more convenience with schools like Nan Hua High School, School of Science and Technology, Ngee Ann Polytechnic, and Singapore University of Social Sciences which are all in the area.
Ideal for: Households with older children
At the launch of Pinetree Hill in July, almost 29% of units were sold, with majority of the buyers being families looking to be owner-occupiers.
4. Grand Dunman
Grand Dunman is a new launch development by SingHaiyi Group that will be located in District 15.
Source: Grand Dunman
As a city fringe location, Grand Dunman brings the best of two worlds together: Easy access to the Central Business District (CBD) all while living outside of the hustle and bustle of city life.
Another plus point is the proximity to the Paya Lebar commercial hub, a regional business hub between the CBD and Changi Airport. The up-and-coming rise of Paya Lebar as a commercial hub since its inception means that there might be a chance your next employer might be located in Paya Lebar instead of the traditional CBD. With Grand Dunman just a few MRT stops away on the Circle Line (CCL), travelling to work is easy and convenient.
Location: 8/10
Foodies will love the location of Grand Dunman. After all, it is a just few minutes' walk from the famous Old Airport Road Hawker Centre. Having the CCL right next to Grand Dunman also makes it highly convenient to head to the nearby shopping malls at Paya Lebar, such as Paya Lebar Quarter, Singpost Centre, Paya Lebar Square, and KINEX.
Amenities: 8/10
Source: Grand Dunman
Given the kind of convenience that homebuyers will get to enjoy, it is surprising that Grand Dunman units are priced relatively reasonably, with 1 bedroom units starting at just over $1,000,000 for 452 square feet.
Price: 6/10
It is hard to imagine a place that is suitable for all types of buyer profiles, but we do think that Grand Dunman fits that bill.
For families with kids, Grand Dunman is just 1.5km away from popular schools like Kong Hwa School and Tanjong Katong Primary School. You can qualify for distance based priority admission. Chung Cheng High School (Main), Tanjong Katong Girls' School, and Tanjong Katong Secondary School are also within a 1km radius from Grand Dunman.
For couples who are still in the wealth accumulation phase, living relatively close to the city as well as the nearby regional commercial hub definitely brings the kind of convenience that anyone can appreciate.
Ideal for: All households
More than half of the units at Grand Dunman were sold at launch weekend, making this the most popular launch of the quarter so far.
5. The LakeGarden Residences
Ever wondered how it's like to live right beside the lake? Yeah, we are talking about that kind of dream retirement life next to pristine waters in a country like Switzerland. Well, there's a chance you can get close to that lifestyle in Singapore with The LakeGarden Residences.
Source: The LakeGarden Residences
The LakeGarden Residences will be built right next to the lush greenery and overlook the picturesque Jurong Lake. It is the rare location where you get to live right next to nature while not being too far from the convenience and comfort of city-living.
On the weekends, you get to enjoy a host of recreational activities on the lake, ranging from cycling, kayaking to dragon boating. It's also the perfect location to enjoy evening walks with your loved ones as you wind down from work.
Location: 7/10
At first glance, the amenities might not be seen as the biggest strength for The LakeGarden Residences; as the most prominent amenity will be Jurong Lake Gardens.
However, we think that the future for The LakeGarden Residences is brighter than what we currently give it credit for. That's because of the major long-term transformation plan at Jurong Lake District (JLD).
Over the next 10-15 years, JLD will be connected with four different MRT lines: North-South Line (NSL), East-West Line (EWL), Jurong Region Line (JRL), and Cross Island Line (CRL). Sites for development of the JLD were released in end of June to develop residential, retail, and commercial buildings. JLD is slated to become largest business district outside the Central Business District (CBD).
Amenities: 5/10 (for now)
Source: The LakeGarden Residences
With lots of development in the region still to come, pricing for this property should be on the lower end compared to the other projects launching this quarter. This should make the units on offer even more affordable and budget friendly for homebuyers.
Price: 8/10
Offering limited amenities at present, The Lake Garden Residences would best suit homebuyers who don't need too many amenities in the early years, or are at least willing to be somewhat inconvenienced. The nearest shopping malls are currently at least 2km away (i.e. Jurong Point, JEM, JCube (closing soon and becoming J'Den), and IMM).
Some might say that it also suits families with kids as there are seven (yes, seven!) primary schools that are within a 1km distance from The Lake Garden Residences. There's no shortage of schools to enrol your child in. And since it's right next to the Jurong Lake Garden, there'll be plenty of great weekend activities with your kids.
Ideal for: Young couples
Be Sure To Budget Before You Go Home Shopping
The last thing you want is to find a new launch that catches your eye but you end up not buying anything because of your budget. That's why it's important to get your home budget in order, right before you go home shopping.
We definitely recommend engaging a mortgage broker to help you navigate your home budgeting finances. A good mortgage broker will assist you to reach out to the various banks to obtain an In-Principle Approval, which can give you an idea of how much the financial institutions are willing to loan you. They can also help you source for the best deals so that you lower your overall cost of financing.
At Mortgage Master, we know the latest home loan packages in the market and can sometimes even offer exclusive interest rate packages that you cannot get directly from the bank. If you're looking to purchase a new property, or refinance your existing home loan, fill up our enquiry form and our mortgage consultants will follow up with a call.